Currency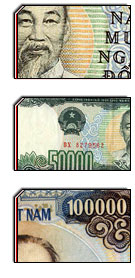 Vietnam's national monetary unit is the Dông (23,000 Dông is equal to approximately U.S.$1). Bank Notes currently in circulation are in denominations of 10,000, 20,000, 50,000 and 100,000 Dong. The U.S. dollar is more or less a second currency in Vietnam. It is the one foreign paper that is readily accepted in the country. A large supply of US$1, US$5 and US$10 are almost essential for tipping, for small expenses and for hotel bills.
U.S. dollars are your best bet and are so common that change will frequently be given in dollars. Traveler's checks work also. You may bring in an unlimited amount of foreign currency as long as it is declared on the forms provided by customs officers.
There are three different ways foreign currency can be exchanged for Dông:
At a bank.
Through authorized exchange bureaus.
At a hotel reception desk.
The banks offer the best rates, but the exchange bureaus are generally more conveniently located and have longer opening hours.